GUN PURCHASES, TRAINING COURSES AND RANGE SHOOTING SERVICES
To schedule a class just click on the link for the desired class, make your payment and you will receive class instructions. Once you arrive, you will receive exemplary training from highly-skilled military veteran instructors of U.S. Special Operations Forces, U.S. Law Enforcement education and California Certified Instructors. All Points instructors have real world Knowledge, Skills and Experience operating in every climate throughout the world and high risk situations. Their knowledge will be passed on through realistic, dynamic training schemes. Upon successful completion, certificates will be awarded. "If you don't pass we failed to teach". Everyone pass our classes with knowledge and confidence.
POWERS TO ARREST (AB2880) Assembly Bill 2880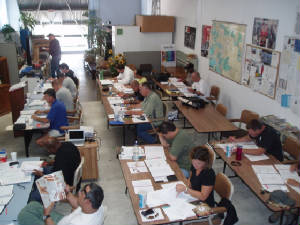 To become a Security/Proprietary Guard you must be at least 18 years of age, Possess a State issued Driver's License or photo I.D. to attend class, and you will
be required to have a full criminal history background approved by FBI and California DOJ.
POWERS TO ARREST COURSE PHASE I $120.00

8 hours initial training for Guard Card

Powers To Arrest 4 Hours

Weapons of Mass Destruction and

Terrorism Awareness 4 Hours
POWERS TO ARREST COURSE PHASE II $100.00

16 hours of training within 30 days of employment in the security field.
POWERS TO ARREST COURSE PHASE III $100.00

16 hours of training within 6 months of employment in the security field.
CONTINUING EDUCATION TRAINING $60

Eight (8) hours of Continuing Education Training is required every year after the first year.
FIREARMS AND RANGE SERVICES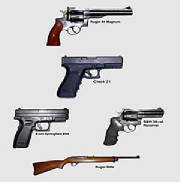 All Points Security is a Licensed Federal Firearms Dealer that provide gun transfer services for guns bought from us, on-line, or Private Party Transfer. The fees for gun transfers are State fee
$25.00
D.R.O.S., Dealers Fee $50.00 for handgun and long gun and CA Sales Tax
8.75%
which I am required to collect. Our Firearms Training Courses complies with NRA and California State law that requires handgun purchasers to attend a firearms safety course, taught by an NRA Certified Firearms Instructor and California Department of Justice Certified Firearms Instructor. Prices include course material, range and gun use
, ammunition, shooting glasses, hearing protection, targets and California Department of Justice Firearms Safety Certificate (California Only)
CALIFORNIA FIREARMS SAFETY CERTIFICATE (FSC) $25.00

Prior to purchasing or acquiring a gun, unless exempted, you must have a valid Firearm Safety Certificate (FSC). To obtain a FSC you must be 18 or older and successfully pass a written test with a passing grade of at least 75 percent.The test must be administered by a California Department of Justice Certified Firearms Instructor. The test must cover, but not limited to the following:

• The laws applicable to carrying and handling firearms, particularly handguns.

• The responsibilities of ownership of firearms, particularly handguns.

• Current law as it relates to the private sale and transfer of firearms.

• Current law as it relates to the permissible use of lethal force.

• What constitutes safe firearm storage.

• Issues associated with bringing a firearm into the home and

• Prevention strategies to address issues associated with bringing firearms into the home.
BASIC FIREARMS TRAINING 8 HOUR COURSE $120.00

This course is at least 8 hours long and include classroom and range time, learning safe gun handling, parts, ammunition and shooting fundamentals, range rules, shooting from the bench rest, two handed standing positions, cleaning and continued opportunity for skills development.
CA CCW PACKAGE $200.00

Meet all requirements to take test- All Points Security will take you through the process of the San Diego Sheriff's Department Criteria to receive your Conceal Carry. 1. Must be of Good Moral Character (Letters from persons in your community). 2. Show Good Cause for issuance (Protected Law Enforcement, Personal Protection with documented threats, Security, Business with justifiable deposit statements showing proof of large deposits). 3. Show proof of residency within San Diego County. ( Two current utility bills that list your name, service address and mailing address or other similar proof). 4. 21 Years of age with a California Driver's License, California I.D., and or military I.D. with California Permanent Change of Station orders. 5. Personal background of eligibility in California. 6. Competency with a handgun. 7. Firearm Safety Certification.
Advanced Firearms Course Improved weapons safety & handling, Marksmanship and accuracy improvements, Speed and tactical loading and reloading, Making split decisions, Shooting on the move, Successfully identifying and handling malfunctions, Stress shooting drills and Tactical rifle techniques with the courses in the below attachment.
Click Here Bring Release Form When Attending Firearms