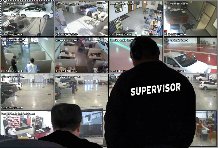 LIVE VIDEO MONITORING

All Points Security has professionally trained military Special Forces Security Officers, Police Academy Graduates and Criminal Justice Major secondary education in the realm of physical security for your security needs in any location, to include apartments (residential), work sites (commercial), parking structures, construction sites, etc. All Points Security Team install and monitors live video feed on your property 24/7. Any suspicious activity that is noticed will prompt our team to contact local authorities and send out a response team to assist the authorities on the activity gathered through our surveillance. When the client arrive to the property there will be no unexpected circumstances as vandalism, burgulary, or maintenance trouble such as water leaks or fires. We also monitor establishments and notify authorities in the event of a robbery in progress to catch the perpetrator instead of taking an obscured picture and attempt to catch the perpetrator months later. All Points Security analyze the clients needs to work with them in providing, a safe and comfortable environment that is mutually agreed upon, as being necessary to successfully fulfill the mission.

PRIVATE PATROL
There are approximately 98.5% false alarm calls to local authorities. After the first couple of responses to false alarms by local authorities a fee will be charged totalling up to $200 per response and non-response to burgulary alarm activation, then suspension and/or revocation of your alarm users permit. All Points Security provides patrolling services at sites that we monitor and sites that warrant it. Private patrol depends on the site and mission of the site being patrolled. All Points Security has access to the use of automobile, bicycle, motorcycle, cart or foot patrol, which ever is determined by the client and All Points Security to best serve the job. Patrolling service is a 24 hour service used randomly not to be predictable. We also patrol in low traffic complex areas monitoring illegal parking, loitering, etc.

24 HOUR DISPATCH
When you become an All Points Security client you will have access to our 24-hour dispatch to speak instantly and directly to our representative to respond to your needs and concerns immediately. All Points Security offers high quality, inexpensive private patrol, from a team of qualified personnel, for your safety and peace of mind. All Points Security Officers have over 36 years experience in personnel, physical, information and industrial security. Our pricing policy is very competitive.

Contact the All Points Security team to receive an immediate quote for all of your security needs.

SERVING YOUR AREA

TOLL FREE (877) ALL-POIINT "TWO EYES ARE BETTER THAN ONE" (877) 255-7644

OR

SUBMIT THE SERVICE CONTACT FORM BELOW
Click Pay Now button to make your Invoice Payment

Payment for partnership in neighborhood patrols to prevent, protect and the security of families, communities and businesses, having their own personal professional security team patrol the neighborhoods. Provide crime prevention, courtesy service and checks, vacation check, respond to alarms, escort to and from residence, pickup and hold packages to name a few. By submitting payment, you the client, authorize and agree to All Point Security patrolling, securing and entering your property in the protection of you and your property from loss of personal effects and life, vandalism and damage.